I received a text this last week that turned my PMS and dark chocolate deprived self into a much more pleasant and jovial person to be around. That text was, "Morning braiana (Zambians pronounce my name Br-eye-ana) chapman. You are requested to come and pick your parcel at castle post office with k25.00 and your id." I'd gotten this text only because I had gone down to several post offices, until I found the right now, asking if I'd gotten any mail. Then I met this nice lady at Castle Post, who I knew held the key to my packages and mail. So, we became friends, naturally.
I quickly pulled on some appropriate clothing, because unfortunately yoga pants and a sweatshirt isn't really a thing here, and left. Half hour later, I walked out with a huge polka dotted package coming from the wonderful Kirsten Banks on behalf of the cute little 1st graders at LLA and my Bookies. The box contained 4 bags marshmallows and chocolate chips (can't get those here), candy, books, cards and snowflake cutouts from the 1st graders, and other great little knick-knacks. I opened the colorful cards and was doused with "I love you" and "I miss you so much" and "Bring me back some animals" from these little 1st graders whom I had just met once yet here they were expressing themselves to me so freely. It was inspiring!
These simple cards reaffirmed my love of writing hand written letters. There is power behind these colorful, sticker filled and misspelled cards. Just that fact that they took the time to draw a stick-figured me with them and some animals or simply me with a snowman or me on top of a Christmas tree, brought me joy! It wasn't much but it meant the world. Not to mention the other thoughtful trinkets from my Bookies brought tears to my eyes as I Snapchatted a series of me opening and discovering their gifts for me. This was the gist of my reaction: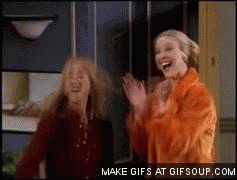 Distance is tough and can slowly pull you apart from people. The excuse most people give for this is, "Outta sight, outta mind" which I gotta say is a load of BS because if you wanted to keep in touch, you would. Hands down, you're just lazy or don't care if you don't. I once aligned myself with that mentality only to have it changed when I found myself constantly being the one away from friends and family. It can be lonely out there! After this realization that being forgotten because 'you're not around', kinda sucks, so I made sure that I kept up those relationships so that no one would ever feel like they were alone and not a part of "your world" anymore. It's not easy by any means, but it does take work and it's gotta come from both ends. That's the hard part, realizing you're willing to put the work in but they are not. This is when learning to "Let go and let God" comes in handy. It's painful to realize you don't mean as much to someone as they meant to you. It is surprising to find that, although the friends you thought might stay in touch, don't, but the friends you didn't think would keep in contact, do. It's these people I latch onto and hold onto for dear life because they stay connected and they care. These people are vital for the circle of "my people".
So, because I know receiving old fashioned letters is one of the best feelings you can get because of its surprise,(refer back to Friends clip) I have been setting the goal of writing a couple of letters a week to people. Some of you may have alr
eady received them actually! It's the idea that although I may be texting or messaging you on a somewhat daily basis, I've also wanted to take the time to write as well because in writing long hand, more things come out and I share more. I get word vomit, for a lack of a better term! Haha! So if you haven't received a letter yet, chances are you might soon and if you think you're not on my list, send me your address and I'll put you on to make sure you do get a letter! Because who knows, I might just send you a bunch of jokes, quotes or even pick-up lines to use on boys (if you're Audrey), or simply some drawings done out of boredom! Please don't feel shy, I truly mean it, I'll write because I know how powerful that connection of writing and receiving letters can be. I'd like to pass that power around!